Free Outdoor Skills Field Trip Opportunity
You and your students are invited…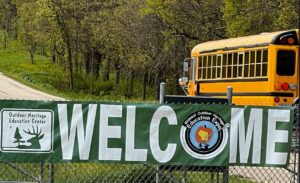 The Midwest Outdoor Heritage Education Expo (pronounced MO'-hee) presented by The Outdoor Heritage Education Center (OHEC)(OH'-heck), non-profit conservation organization.  This annual free field trip for grades 4-7th is a perfect opportunity to extend learning and take learning outdoors before the school year comes to an end. Please consider joining us!
May 8th, 2024 at Havenwoods State Forest in Milwaukee, WI and
May 15th & 16th, 2024 (pick the day that works best) at the MacKenzie Center in Poynette, WI.
Students can explore mentored programs so they can develop outdoor skills and enjoy lifelong outdoor activities. Connect with educators, trained safety instructors and other volunteer mentors who provide an enriching and engaging experience connecting students to Wisconsin's natural resources, outdoor heritage and lifelong skills.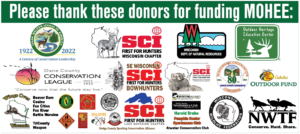 With generous support of our sponsors, OHEC provides transportation funding to cover cost associated with bussing.   This support is available based on true need.  (Transportation funding is reimbursement based.)
Ideal for the 4th – 7th grade audience, with many activities correlated to state academic standards. 
At the expo, educators, conservation volunteers, and DNR professionals will help keep students engaged while increasing their understanding, appreciation and sense of stewardship for natural resources, Wisconsin's outdoor heritage and related activities.
New activities added every year with stations that emphasize hands-on learning experiences where students can participate free in any or all of these outdoor skills activities:
| | | |
| --- | --- | --- |
| Archery | Hounds & Bird Dog Demos | Pond Study |
| Forestry/Fire Control | Air guns (BB guns) & Firearm Safety | Reptiles and Amphibians |
| Wildlife ID (including live animals) | Historic Fur Trade & Trapping | Outdoor Safety (including snowmobile & ATV/UTV) |
| Tracking & Game Calling | Parks, Trails & Camping | "Sensory Safari"  & Touch of the Wild Trailer |
| Fisheries, Fly-tying, & Angler Education |   |   |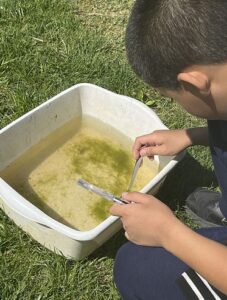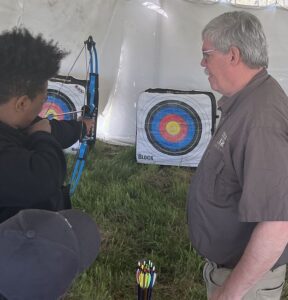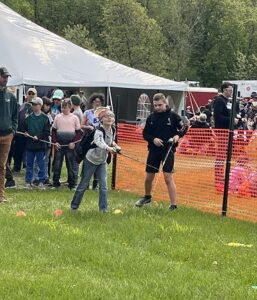 MOHEE is also a great place to meet local representatives of conservation groups and DNR programs, discover additional partners and educational resources available to you, and to connect students with ongoing mentored outdoor skills training programs to keep them actively learning throughout the summer and beyond.
Do you have someone in your group that has a temporary or permanent mobility issue?  Maybe a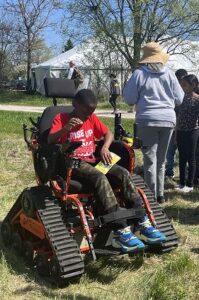 student, chaperone, mentor or teacher?  
Outdoor wheelchairs (OWC) for this event can be requested from:
Access Ability Wisconsin (AAW).   Visit their website at
https://locations.accessabilitywi.org/reserving
  Please note you will have to submit a refundable deposit, fill out a use waiver prior to use, and complete a use survey after use;   AND…
Wings Over Wisconsin; Eden, Mayville, Denmark/Green Bay & Coulee Region Chapters. 
https://www.wingsoverwisconsin.org/news-media?lightbox=dataItem-irzf1me9
Resources are limited, please make your request in advance of the event(s).
Teacher Testimonials:
I just wanted to reach out on behalf of Bruce- Guadalupe and say thank you so much for the opportunity to attend the field trip. The students had a fantastic time and they were very curious about many of the experiences that they had. We haven't been able to stop talking about it in science class! Thank you for giving the students this hands – on experience. And if you are looking for more people to attend next year, we would love to come back! – Mr. Ortega, 6th grade, Milwaukee WI.
Just wanted to say THANK YOU on behalf of the Winneconne Schools and 5th Graders that came yesterday to MOHEE! We had a great time and I thought it was a tremendous day and event for all kids (and adults!) that were there. Thank you for all the time, effort and hard work that it took to organize that! I am certain we will be back next year! THANK YOU also for granting our district one of the transportation grants and making that trip feasible for our group! Much appreciated! – Ms. Kolbe, Winneconne WI.  
Thank you for the wonderful outdoor education experience.  All Saints Catholic School thanks you for all of your hard work and energy put into the program.  We appreciate you! – Ms. Kurczek, Green Lake WI.
Questions? Contact organizer Ruth Ann Lee, OHEC Executive Director or 608-358-1708. 
Check out our video below to see the sights, and hear the sounds of MOHEE 2023.
Teacher Resources for Planning a MOHEE field trip:
OHEC MOHEE Transportation Grant Info 2024
MOHEE Milwaukee 2023 property & activity map  – 2024 event map will be released in May
MOHEE Poynette 2023 property & activity map – 2024 event map will be released in May
Media:
Paul Smith: An outdoor education expo that provides many learning opportunities is expanding and coming to Milwaukee for the first time.   April 5, 2023 Milwaukee Journal Sentinel.
WI MOHEE Event a Success.   2022.