Watch "Deer Hunt Wisconsin" showcasing conservation success, new R3 efforts and America's largest free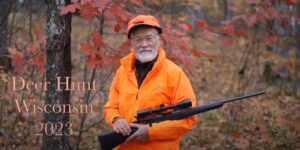 outdoor skills field trip (MOHEE).
As the Outdoor Heritage Education Center commemorates its 25th Anniversary as a charitable nonprofit organization , founder and chief volunteer Mark LaBarbera celebrates more than a dozen years of collaborating with Dan Small to connect people to the outdoors. 
OHEC education programs, conservation partners, and volunteers receive free publicity each year through their work to recruit, retain, and reactivate hunters, anglers, and other outdoor enthusiasts. 
OHEC interviews, segments, posts, and features educate, inform, and promote safe, ethical, sustainable, and fun nature-based activities. 
Print, radio, television, and social media help OHEC tell our story and connect with the larger public as we invite more people to enjoy, appreciate, and care for natural resources we all rely on as part of outdoor heritage. 
You can help OHEC connect more youth and adults to the outdoors by
taking action
today.
OHEC is a Wisconsin Charitable 501(c)3 non-profit organization.