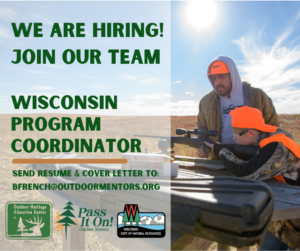 Pass It On- Outdoor Mentors & OHEC
Wisconsin Program Coordinator 
A Program Coordinator for Pass It On- Outdoors Mentors is an important team member, assisting in our mission to get youth in our community out hunting and fishing through outdoor mentorship. A Program Coordinator helps organize, coordinate, and implement program events. Program Coordinators are required to communicate with youth participants, volunteer mentors that come from the ranks of conservation groups and other outdoor enthusiasts, landowners, and other collaborative partners. This position is responsible for organizing the event, arranging access (private and/or public) with landowners, and creating an event narrative with specific details of the event. They will manage who will be participating in each event. They will recruit the volunteer mentors that will facilitate the event. The coordinator will assist the novices and other parties involved by providing information about what is needed prior to the event.  We welcome all kids 11 years of age with Hunter Education out to hunt and fish with us. Most work will be done over the phone and computer. 
This position will work closely with the Outdoor Heritage Education Center (OHEC), other WI R3 Coordinators and WI DNR. The Program Coordinator must be a certified Hunter Education Instructor or commit to completing the requirements for the same within 2 weeks of hire date.
40 hours a week. Some evening and weekend work and travel will be necessary to accomplish the mission. Position will report to the CEO.
Apply By: Tuesday, August 29th, 2023